Saying Public Access is near and dear to my heart simply doesn't give credit where credit isdue.  The truth is I wouldn't have found out about PEG Cable Access if it weren't for a mistake.  In fall of 1996, I was in 8th grade and it was time to register for our freshman year of high school. Like many 'loaners' out there, I saw myself as an outcast.  My social life was lacking even more than my count of friends while at school.  When I think back to those days a very few memories stick out. Mostly it was me keeping my nose in the school books and getting through the day without being picked on.  Then the day came, it was time to choose what our freshman year course load was going to look like.  Now when I saw the course "Television" I figured I would be learning how to fix and repair broken televisions and VCRs.  I had no idea what I was getting myself into. Freshman year began and literally by my first day of class I was hooked.  I walked in and saw the class room / studio with the cameras arranged around the news desk and was just in awe.
From that day forward I was drawn to video production work, the high school's TV club worked closely with the Public Access center, which provided us students an opportunity for out of the class room and "real world" experience.  As I look back I remember many of the little things I took initiative at doing. Like making class room studio a mobile one, building a second editor out of excess pieces of equipment, putting a format to what became a bi-weekly newscast for high school activities and so on.  By graduation time I clocked over 8,000 volunteer hours outside of the class room, including over the summer.
It was safe to say I really had something to focus on and a passion was growing within me.  But that doesn't go without saying that there weren't darker times during those years.  Not accepting perfection with some of my work, having bouts of unrelated depressions, wanting to just give up on, well everything.  If it weren't for but one special lady, a teacher, a mentor, a friend. Sara Joelson, who passed away December 24th 2006 was to me what she was to many. She began as my instructor for the television course and grew into being one of my most trusted friends. Of everyone ever taken from me in this life, I miss her the most. She is the reason I am who I am and where I am now with my career.
It's because of her deep impact in my life that I've decided to dedicate this program, Eye On Access, in her memory.  I first started to talk about doing this program with her many, many years ago. I find it only fair that I give her credit for something that has me in such a positive mindset the last few months in the planning I've put into this project.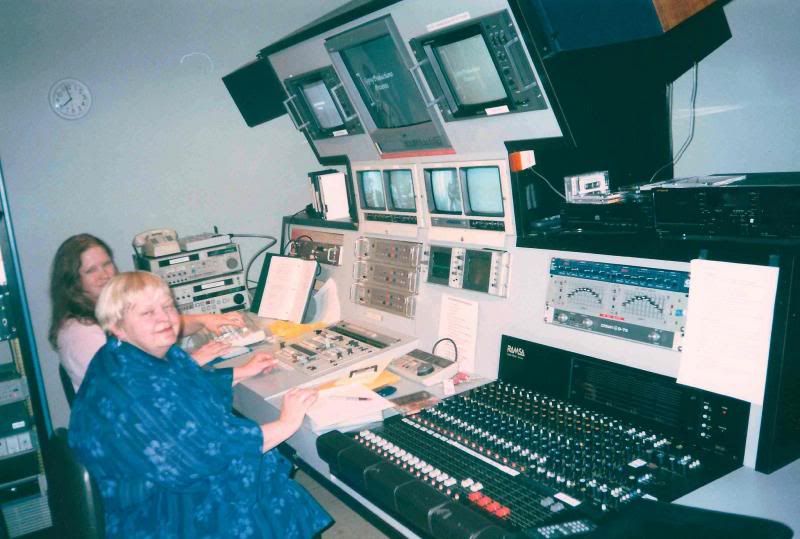 Mary Milinar-Stephans at the CG machine (rear) & Sara Jolsen (in blue) at the director controls at the Zion Studio.
- Rest in Peace Sarah, Dec. 24th 2006
 - Rest in Peace Zion Studio, September 2008.